Driving in Winter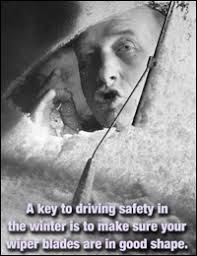 Vision
• Keep the windscreen and other windows clear – if your vision is obscured through dirt, snow or even sticker-infested car windows you could face a potentially heavy fine. Clear snow from the roof as well as from windows as this can fall onto the windscreen obscuring your view. It can be a hazard to other road users as well.
• Dazzle from a low winter sun can also be a problem when trying to see the road.
Visibility
• Make sure that all bulbs are working and that lenses are clean for safety and to be legal on the road. When roads are really mucky you might need to clean lights after every journey. Keep the number plates clean too, as you can be fined if they are dirty and illegible.
• If you have to clear snow from the car it's important to clear it from the lights - front and back - as well as from the glass and roof.
• You must use headlights when visibility is seriously reduced. You may also use front or rear fog lights but these must be switched off when visibility improves as they can dazzle other road users and obscure your brake lights.
Tyres
• It is recommend at least 3mm of tread for winter motoring, and defiantly no less than 2mm.
• Don't reduce tyre pressures to get more grip – it doesn't work, and reduces stability.
• It's rare to need snow chains unless you live in an isolated area hit with heavy snow, and where the roads are not cleared. They must be removed to drive on a metalled road without a reasonable covering of snow.
• Consider changing to winter or all season tyres – these have a higher silica content in the tread which prevents it hardening at lower temperatures, and therefore gives better grip in cold wet conditions.
Safety checks before your journey
• Get up at least 10 minutes early to give you time to prepare the car.
• Don't drive off like a tank-commander, with a tiny hole cleared in the windscreen. Clear all windows using a scraper and de-icer.
• Use a cigarette lighter to warm a key for a frozen lock. Don't breathe on the lock, as the moisture will condense and freeze.
• Plan routes to favour major roads which are more likely to have been cleared and gritted.
• Put safety before punctuality when the bad weather closes in. Allow extra time for winter journeys but be prepared for the inevitability of being late for work due to unexpected delay.
• Gentle manoeuvres are the key to safe driving - stopping distances are 10 times longer in ice and snow.