Stop Theft from Vehicles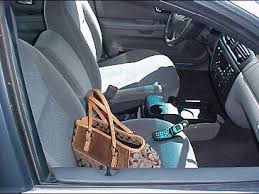 • Try to park somewhere open and well-lit, in a garage, or in view from your home.
• Lock your vehicle, including the boot. Close the windows and sunroof.
• Take all valuables with you when you leave your vehicle. Don't leave anything on show in your car when you park – not even a coat or empty carrier bag.
• If you have a removable sat-nav, remove it and take it with you if possible when you park up, even if only for a short time. Remove the mounting, polish any marks off the windscreen and hide the cable and mounting from view.
• Store car ownership information at home, not in your car glove box.
• Do not programme your sat-nav 'Home' as your correct home address, use a neighbours or a road nearby as it could be a risk if your house keys are stolen or if a crime happens to your vehicle while you are out then the offender knows where you live and that you are not home.
• Number plates are often stolen for criminal use. Use plates secured with anti-theft screws, available from car accessory stores.