Vehicle Security - Bikes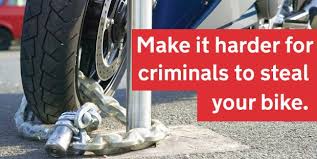 • When parking away from home make sure your bike or motorbike is locked to a heavy duty piece of street furniture and where possible with the lock or chain off the floor.
• At home, lock bicycles and motorbikes in a secure garage or shed if you have one, using good quality u-lock or chain and padlock to a ground anchor.
• Fit an alarm to your motorcycle
• Mark your bicycle frame with your postcode in 2 separate locations if possible, one of which should be hidden.
• Register your bike for free with www.immobilise.com. This will help police to find it if it gets stolen. The immobilise website also has some useful tips about bike security.
• Take a photo of your bike and keep it with the insurance details. Make a note of the make, model and serial number.