Deneholes - Joydens Wood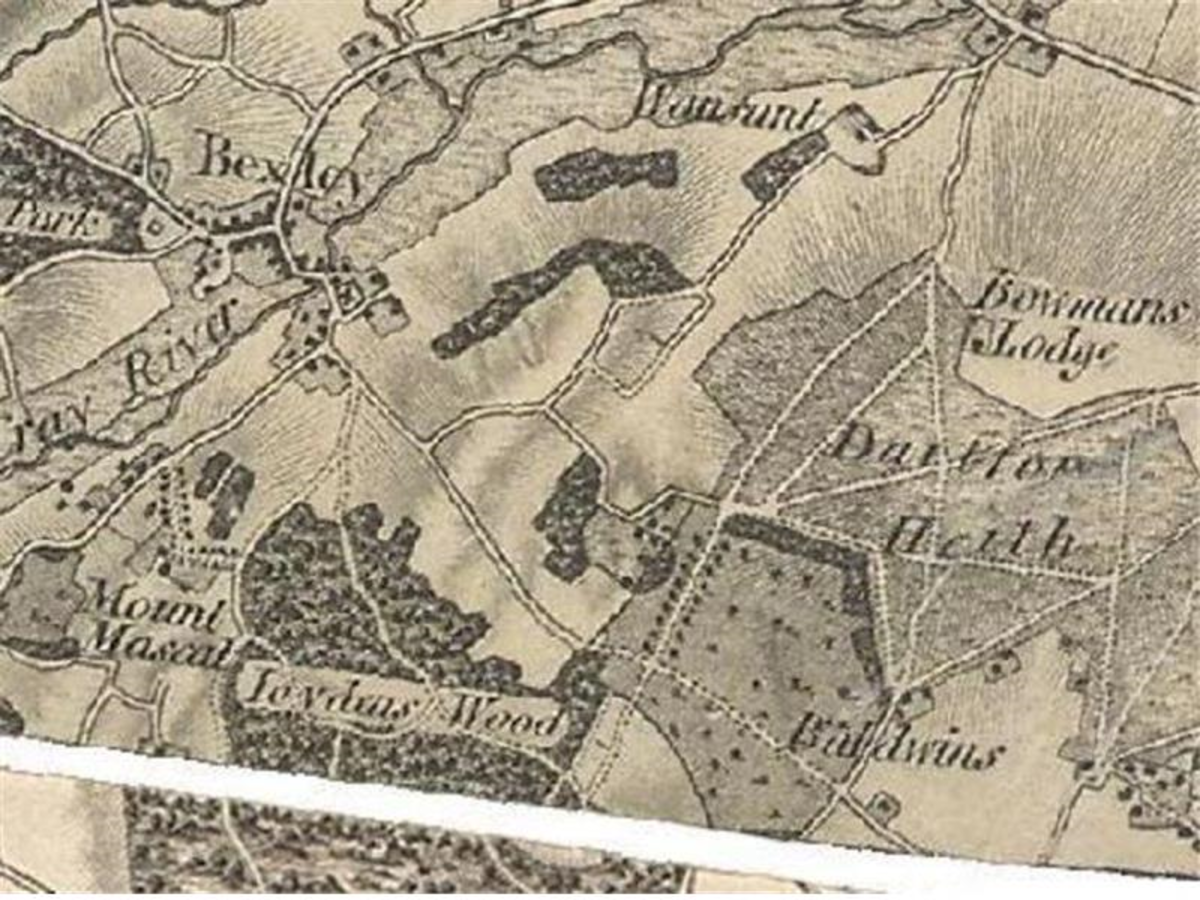 Residents and visitors to Joydens Wood often have their curiosity aroused when reference is made to the deneholes that exist in this area of the Parish. In the 1920's, when the area was still 'rural', there were no less than 120 deneholes to be seen in Joyden's Wood and the two adjacent woods, which were known as Stankey Wood and Cavey Springs.
A denehole is a deep narrow shaft, some three feet in diameter, sunk into the ground usually to a depth of sixty feet at the base of which are usually six chambers or caves, set out in a trefoil arrangement of the shaft with the roof being supported by pillars of chalk left standing. These excavations are invariably on land geologically known as Thanet Sand, a layer which overlies chalk beds. Footholds were cut into the sides of the shaft to allow the miners to climb in and out. The shaft, when the chalk is reached, widens out into a domed chamber with a roof of chalk some three feet thick and sixteen to eighteen feet in height. The walls frequently contract somewhat as they near the floor..
By the end of the nineteenth century, three purposes had been suggested for which deneholes may have originally been excavated -
as hiding places or dwellings
storehouses for grain
draw-wells for the extraction of chalk for agricultural uses
For several reasons it is unlikely that they were used as habitations, although they may have been used occasionally as hiding places. Silos, or underground storehouses are well known in the south of Europe and Morocco. It has been suggested that the grain was stored unthresherd and carefully protected from damp by straw. A curious smoothness of the roof of one of the chambers of a twin-chamber dene hole has been put forward as additional evidence to this theory.
Since the 1950s the theory that they were ancient chalk mines has gained acceptance. This was formerly thougt unlikely as it was reasonned that chalk could have been obtained outcropping close by. J Caiger excavated, surveyed and researched deneholes and concluded that they were excavated in prehistoric, Roman, medieval and even post-medieval times to produce a supply of unpolluted chalk to spread on fields for the purpose of 'chalking' the adjoining fields with large quantities being spread to increase the fertility of the soil. By excavating a narrow shaft, the miners used up as little of the productive agrecultural land as possible. He suggested various other practical issues which supported his ideas including that open cast chalk extraction would require moving the material further than necessary and that shallower chalk deposits have much of their minor mineral content leached out by groundwater.
Some years ago, in a cutting at the end of Tile Kiln Lane, the 'chalking' theory was supported when large pieces of undissolved chalk were noticed lying a few feet below the surface of the field backing on to Stankey Wood. The natural chalk is forty feet below ground level in this area. Going back to history again credence is given by the fact that in 1225 Henry III gave every man the right to sink a 'marl-pit' on his own land to acquire chalk to spread on the land with this practice being common in the Middle Ages and continuing through to the 19th Century.
The housing development on the north-east end of Joydens Wood led to the destruction and filling in of a number of deneholes but some partly stopped-up shafts and depressions are still to be seen about the Wood but it is strongly recommended that visitors take great care when examining any shaft or depression as the soil filling the shaft may be unstable.
In Stankey Wood, now part of Baldwyns Park, evolutional changes have been noted in several deneholes where the chambers have been enlarged in such a manner as to form one large cavern, the vault being supported by up to six pillars. These workings appear to represent the final phase of deneholes in the area.
Many deneholes have a mass of sand beneath the shaft far greater than could be expected to fall by natural attrition. It would appear that the denehole diggers' practice was to dump freshly dug sand from a new shaft being excavated into an adjoining denehole which had been exhausted.
Spurrell Avenue was named after F C J Spurrell, an archaeologist who lived in Belvedere in the late 19th Century, who explored many of the area's deneholes in the 1870's and published his findings in the Archaeological Journals of 1881 and 1882.
(NB - If any resident has any images of a 'J0ydens Wood denehole' the Council would be pleased to receive a copy)