Sir James Whitehead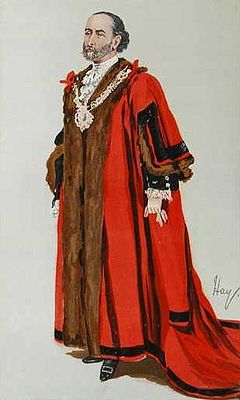 James Whitehead was born on 21st March 1834 in Westmoreland the youngest of six children. He was educated at Appleby Grammar School and left at fourteen. He entered the business world in Bradford. In 1860 he came to London and through hard work became wealthy y the time he was 40.
He married Mercy Matilda and had four sons and two daughters. After playing a full part in civic affairs he became an Alderman of London in 1882 and in 1884 he became Sheriff. The year 1888 saw him elected as Lord Mayor of London. He and Mercy took their roles of Mayor and Mayoress seriously and performed many charitable acts. He was asked to serve another year as Lord Mayor, but owing to ill-health he declined and was made a Baronet in 1889 a title of which he was very proud. Anyone who addressed him as 'sir' instead of Sir James was reprimanded.
He stood for Parliament in the Appleby division of Westmorland in the general elections in 1885 and 1886 . He was elected as Member of Parliament for Leicester in the general election in 1892. He was a Liberal and supported Gladstone.
In 1896 Sir James bought the Manor of Grandison and took up residence in what is now Wilmington Manor House. He later bought Wilmington Hall for his son George and his family and had a bridge built across what was then called Sherwood Hill (now Common Lane) for easy access between the Hall and the Manor House.
He was a keen environment enthusiast and modernised the Manor House by installing a generator when electricity was in its early stages. All the repairs and alterations had to coincide exactly with surrounding architecture. The trees which grow along the edge of the Common were planted by Sir James. His farm was kept immaculate and his animals very carefully cared for.
Through the Whiteheads many changes were made to improve the lot of those living in Wilmington. Sir James was a staunch teetotaller and was convinced that drink was the cause of poverty. He believed in giving people the means to help themselves and set up a benevolent society for the villagers. As most of the meetings were held in public houses he instigated the Wilmington Institute. Lady Whitehead financed a nurse for the village and supervised her work. Through the Whiteheads the smelly village pond was filled in and they financed a trough to be put in its place (now located opposite the Wilmington Memorial Hall). They established a Band of Hope and built an adult Total Abstinence Society of 150 members. There was a Bible Class for the young women. They started the first Boy Scout Group in Wilmington which was very successful. They had the beautiful lych gate made for St Michael's Church where they worshipped.
Sir James and Lady Mercy celebrated their Golden Wedding Anniversary in May 1910 and received telegrams and gifts from all over the world and on 30th May a party was held to which the villagers were invited. Sir James donated £3,000 to Appleby Grammar School to set up a scholarship in his wife's name. He also presented Wilmington with a well-equipped Village Institute 'For the working men of Wilmington whilst all of his staff received a gold sovereign. Less than a year after the celebrations Lady Mercy died having caught a chill and, as had been her wish, a drinking fountain was erected in the Village, opposite the Common.
In 1917 Sir James died at his home at the age of 83. He was cremated at Golders Green and a casket containing his ashes were buried in the family vault at St Michaels beside the coffin of his wife. In his will he left £514,126.
Sir James was a true benefactor for the working people of Wilmington.
(The above has been extracted from Jean Radford's informative book – 'Wilmington – A Village in North Kent)