History of St Michaels (Part 1)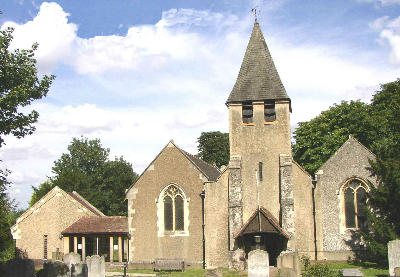 The following history, spread over four Pages of this website, is a copy of a Booklet compiled by Horace J Balls in 1958. In the Foreword the then Vicar, Reverend H C Stuart wrote – "We owe a great debt of gratitude to Mr Horace J Balls for the large amount of work he has put into this history. I am sure it has been a labour of love for him and perhaps his best thanks would be that we should all treasure the Church more than we have done and use it more to the glory of God"
This history ends in 1957 the Parish Council wonders whether any member of St Michael's would be willing to pick up the story and continue the story from 1957 to the current day?
To begin the history of St Michael & All Angels Church it is necessary to go back to 597 when St Augustine re-introduced Christianity into Kent, first at Canterbury and soon after Rochester from where missionaries went to the pagan communities of North West Kent and apparently one of their centres was at Sutton-at-Hone. At the close of the Saxon period there was a church in that Parish with two chapels – one at Kingsdown and one at Wilmington. It is interesting to note that through a rebuilding in the 14th Century Sutton today has nothing of its Saxon church while Wilmington and Kingsdown each retain a fragment of their chapels.
It is impossible to state whether the Normans after 1066 enlarged Wilmington Chapel, though it is known that in 077 Sutton Church and its two chapels were given to Rochester Cathedral for the maintenance of the Convent of Monks established there by the Normans. Thus Sutton ceased to have a resident rector and from 2077 the church and the two chapels were served by chaplains i.e. curates employed by the monks. This, quite naturally, the bishops of Rochester regarded as highly unsatisfactory, and in 1208 the monks were forced to endow a vicarage for Sutton and in 1253 give Wilmington its own vicar.
The monks of Rochester were not the only ecclesiastical body which influenced Wilmington during the Middle Ages. The Canons of Lesnes Abbey owned land in the parish adjoining Baldwyns; and in 1193 Bishop de Glanville endowed his new foundation of Strood Hospital for poor and infirm people with land at Ockholt (now known as Stanhill). The greatest ecclesiastical land owners were the nuns of Dartford Priory which was founded by Edward III since a considerable part of their endowment consisted of land in Wilmington.
The only knowledge of the church during this period is gleaned from the wills of parishioners of the 15th and early 16th Century. These show that candles were burned before the Rood and before altars of images of Our Lady, St John, St Michael, St Nicolas and St Catherine in the church.
The story continues….